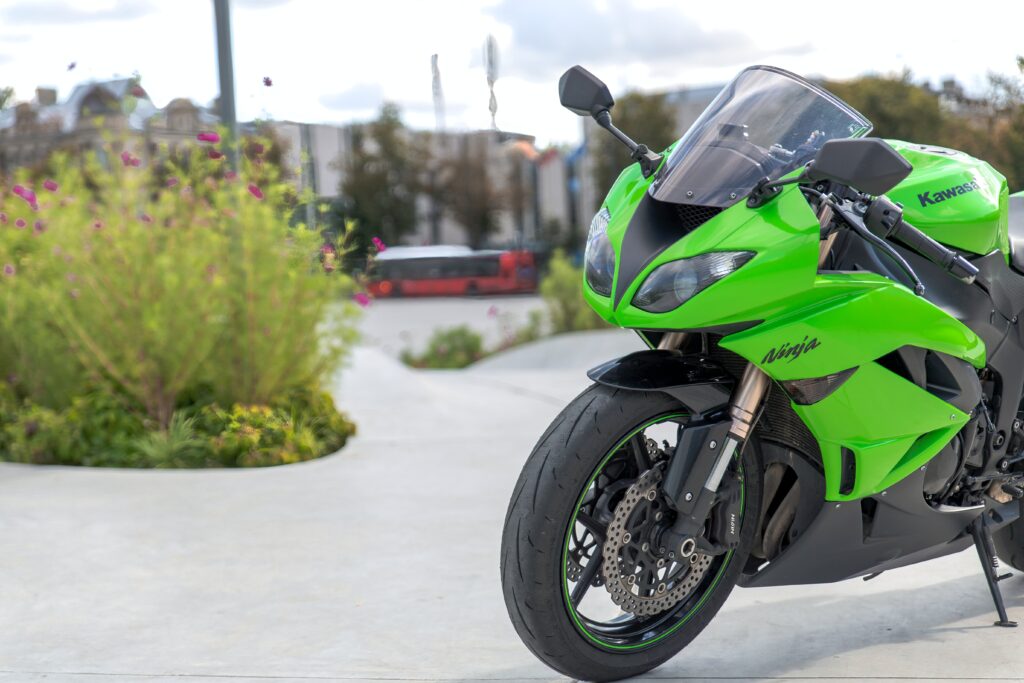 No matter what kind of motorcycle you ride, whether it is a cruiser, a sportbike, or an adventure bike, a clean windshield is essential not only for safety but also for a great outlook. You will find a comprehensive how-to guide in this article "How to clean motorcycle windshield".
Cleaning your motorcycle windshield is an important aspect of motorcycle maintenance. The windshield gets dirty over time and needs to be cleaned to ensure a safe ride. A clean windshield prevents water from splashing in the rider's face and keeps the rider alert while riding. This article gives details on how to clean motorcycle windshields.
A complete Guide on Windshield Care and Cleaning
Motorcycle windshields are quite different from car windshields, but people tend to clean them with the same techniques. They don't understand that cleaning a motorcycle windshield is very different from cleaning a car windshield. Motorcycle windshields are made of plastic — and therefore, very scratchable. They can also easily be damaged if you use the wrong cleaning method.
Should I use any hard cleaning solutions for a better result?
Don't use any harsh chemicals on your motorcycle windshield! They can leave your expensive bike looking terrible. Many people would recommend using ammonia, bleach, or any of the usual cleaning chemicals for motorcycle windshields.
But, if you have a transparent windscreen and want to avoid damage by chemicals, it's a good idea to skip these suggestions. Ammonia and bleach can eat away at plastic, leaving your windscreen hazy or scratched — and that's not what you want! Don't use Rain-X, Windex, or other chemicals on your bike's windshield.
With the right tools, cleaning can be a breeze.
If you're unsure of how to clean your motorcycle windshield, there are some things you should unquestionably avoid doing:
Never use paper/paper towels to wipe the motorcycle windshield. Paper is slippery and can scratch the glass, especially if there's any dirt on it.
Do not apply direct alcohol or any chemicals. Alcohol and chemicals applied directly to the screen will only cause damage. The alcohol will ruin the paint job, and the chemicals will damage the windshield.
You don't need to use a brush while cleaning your motorcycle windshield.
Aftermarket glass cleaners can make the motorcycle windshield hazy.
Use a wind blower to clean the dust off your motorcycle's windshield.
Cool water is all you need to remove oily particles from your windshield.
7 BEST CLEANINGS METHODS FOR YOUR MOTORCYCLE WINDSHIELD
When it comes to motorcycle windshield cleaning, the most important thing to remember is that the right way of doing things can mean the difference between a perfect finish and one that's a little less than you'd expect. It's always a good idea to have your motorcycle windshield professionally cleaned at least once a year, but it's also very easy to do this job yourself.
Cleaning a motorcycle windshield at home is very easy. There are only 7 steps to follow, and each step is equally simple!
What can I use to clean my motorcycle windshield?
Cleaning Tools and Materials:
Wind Blower
Soft Cloth
Shampoo (Regular)
Clean water
What do I use to clean my plastic windshield?
Blow off any loose dust on the windshield with a leaf blower.
Soak your motorcycle's windshield in two-thirds of a cup of cool water.
Apply some shampoo onto the windshield and rub it in with your hands.
Don't wear any gloves when washing the windshield.
Rub all over the windshield properly.
Make sure that you've rubbed for 10/15 minutes before washing the windshield again.
Now use a microfiber cloth to wipe the whole windshield to dry perfectly.
And there you have it! Your motorcycle windshield is now as good as new.
Motorcycle Windshield Categories:
Windshields are the first line of defence against the elements when riding your motorcycle, so it's important to choose the right one. To help you make an informed decision, we've created an Infographic detailing the different types of windshields and their uses.
There are three types of motorcycle windshield:
1. Plastic Windshield (Lower grade)
2. Acrylic Windshield (Medium grade)
3. Polycarbonate Windshield (Higher quality)
Are there any aftermarket cleaning solutions?
As we mentioned earlier, any kind of natural chemicals is toxic to your motorcycle windshield. But there are some excellent cleaners for plastic windshield and visor which are made with good formulas. These cleaners are not toxic for your bike windshield. I hope I've demystified the rewriting process for you. Remember, the trick is to make it as seamless as possible.
As plastics and acrylics tend to scratch easily, polycarbonate is a superior choice in constructing aftermarket motorcycle windshields. Polycarbonate materials are more vital than plastics or acrylics, so be sure to read your motorcycle windshield cleaning instructions before applying Windex, water, ammonia, or other cleaning solutions.
Which are the top-rated windshield cleaners on the market?
You have many options for plastic windshield cleaners — but we researched to save you valuable time.
Here are the three best plastic windshield cleaners for you:
Best Quality: Meguiar's M1708 Plastics Cleaner
Best Value: Novus Plastics Cleaners
Quick cleaner: ROLITE Plastics and Acrylic Cleaner
Meguiar's M1708 Plastics Cleaner Review
Meguiar's M1708 Plastics Cleaner is the best-in-class motorcycle windscreen cleaner that gets rid of fine scratches. It's also the only cleaner suitable for eliminating yellowing from all types of non-coated transparent plastic surfaces, including acrylic and polycarbonate. You can use it on motorcycle windscreens, helmet visors, and even painted non-coated plastic surfaces. It has a 5/5 star rating on Amazon, and The M17 formula helps to give a mirror glace finishing at the end.
You can use M1708 Plastics Cleaner to remove sticky residue, grime, and other contaminants from your precious plastics. It's the fastest, easiest way to keep your products looking their best. How do you use it? Read on to find out.
Shake the product properly before using it
Try to use this solution in a comfortable location, like in your garage
To clean a mirror or any other glass surface, you can use a microfiber cloth or 100% cotton terry cloth towel.
Work on one side of the windshield at a time
Rub it carefully
Take a fresh soft towel to wipe off the surface before the solution dry
Take that new towel and give it a final wipe to prepare for the next use
And you're done! All the visible scratches should be gone. Your windshield should be as good as new, or even better!
Expert Tips:
Better results come from better tools. Use the Meguiar's Supreme Shine Microfiber Towel to see the difference.
Novus Plastics Cleaner Review
Novus Plastics Cleaner is the best product for the best value. It's a great scratch remover solution that helps to remove all the micro scratches from your plastic or acrylic windshield and more. It's as easy as applying the cleaner twice, though it may take a little longer —your results will be so much better than with any other solution that's out there!
ROLITE Plastics and Acrylic Cleaner Review
ROLITE is a multipurpose cleaner that can be used for cleaning helmets, visors, and windshields. It's so fast and convenient that you'll wonder why you ever tried to clean your windshield any other way.
Gently spray the cleaning solution on your windshield or bike helmet visor. Wipe clean with a soft microfiber cloth, and you'll have an instant shine that will knock your socks off! After you use this cleaning model, you'll see the difference.
How to clean a cloudy motorcycle windshield?
When it comes to wet weather, water on the windshield can cause serious damage. To prevent such damage, make sure the windshield is clean before the rain hits. When there are any dirt or debris on the glass, use a clean cloth and wipe it away. If water has made scratches or cloudiness on the windshield, spray it with water and gently wipe it off.
How to clean polycarbonate motorcycle windshield?
Use a mild washing soap and warm water to remove any dirt and debris from the polycarbonate surface. Wipe the surface with a clean cloth after every application. Avoid waxing or buffing, as these actions can damage the surface of the windshield.
How to clean bugs off motorcycle windshield?
A large, cold towel will soak up all the bugs and debris. Wipe away any bugs with the damp towel. Wash the glass again with warm water and soap.
Did you know that windshield coating is a great way to keep your motorcycle looking new?
An excellent part of windshield maintenance, the ceramic or poly coating will keep your windshield like new for years. It's a great option if you want to do it at home, but make sure to get a professional to install it if you have a motorcycle!
To keep your windshield looking like new, visit a motorcycle shop and have them apply ceramic or poly layers to treat it. You'll spend a little more money than going to a car wash, but you'll get the satisfaction of knowing that you've guaranteed your bike's safety, and you'll never have to worry about water again.
Final Words:
Motorcycles are probably one of the most fun ways to enjoy the open road. However, riding on a hot summer day can be unpleasant if you've got bugs on your windshield. Here at honestrider.com, we're all about making your life easier. We've put together a list of motorcycle windshield washing tips that will ensure your ride is as enjoyable as possible.
If you want to take full advantage of your bike, it is important to keep it clean and clear. Follow these 7 easy steps on how to wash motorcycle windshields.
Do you have any questions about motorcycle windshields? Our experts are ready to answer your questions as soon as they are submitted. Feel free to contact us via the comment section below, and we'll get back to you within 24 hours.
Have a safe riding!